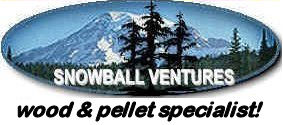 Snowball Ventures - Pellet Division has come full circle!

We started in 1995 with the purchase of a Traeger wood pellet furnace to replace the wood furnace for my 2200 sq.ft. log home.

After experiencing difficulty in purchasing consistent quality wood pellet fuel from nearby cities, I decided to become a wood pellet distributor for Eagle Valley Pellets in Princeton. (Princeton Co-Generation Corp. had just finished building a new $2.5 million wood pellet mill in the early spring of 1996) In this way, I could be assured of a reliable supply of good wood pellet fuel for myself and all the other wood pellet heating appliance users in the Boundary Country area of BC. After trying a couple of different brands over the years, I was pleased to switch back to, and continue to sell Eagle Valley Pellets.

As an offshoot of the wood pellet fuel end of the business, I attended a servicing seminar in Surrey BC in the Fall of 1996 and have since become a sales outlet for a number of manufacturers of pellet heating appliances and wood stoves/inserts, as well as being a factory authorized service and repair facility (including warranty repairs) for most brands.

Through training seminars and courses in venting, installation and trouble-shooting, I have continually upgraded my knowledge in order to stay current with new technology as well as maintaining my WETT certification.




The time has come to, at least partially, retire.

I will continue selling pellets, but am no longer offering inspections or installations as part of our services. I will continue to do repairs on some wood or pellet heating appliances, but only in my own shop. I also have access to parts for some wood and pellet heating appliances as well as some chimney parts.


Home
Consumer Resources
Snowball Ventures - Wood & Pellet Heating Specialist!
---
HOW TO CONTACT US: Proprietor: John Billwiller Phone: 250-442-2943
E-mail:
Regular Mail: 10545 Granby Rd.
Grand Forks, BC, Canada V0H 1H1

(Snowball Ventures is conveniently located 10 ½ km north of Grand Forks at 10545 Granby Road.)



| | | | |
| --- | --- | --- | --- |
| Member of: | | Director of: | |
---
Last updated December 30, 2021
Site design by: