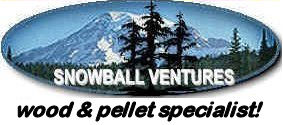 Home

About Us

Consumer Resources

Manufacturers

Products
Pellet & Acc.
Wood Stoves
Wood Inserts

Installations



Alderlea wood stoves & inserts by Pacific Energy.



Pacific Energy is a Canadian company, located in Duncan, BC, who have been building world class hearth products for over 30 years. Their Alderlea line of wood stoves combines the charm of the cast iron stove with Pacific Energy's proven steel firebox and adds food warming shelves and a concealed cook top for practical warmth and beauty.
| | | |
| --- | --- | --- |
| | The Alderlea T4 (left) in rich metallic black cast iron and the T4 Classic (right) clad in Majolica Brown or Antique White porcelain enamel are mobile home approved and designed for spaces up to 1500 square feet. The concealed cook top fits a 6" by 13" pan and the stove features food warming shelves, an air wash system for super clean glass and an easy clean ash system. A temperature actuated 125 cfm variable speed blower is available as an option. | |




The Alderlea T5 Classic (left) and T5 (right) are a slightly larger version of the T4 above, heating up to 2000 square feet while still being mobile home approved. The concealed cook top will fit a 9" x 11" pan and the swing out food warming shelves, air wash system and easy cleaning ash system are standard features. It has an optional variable speed blower. The T5 and T5 Classic are also available as inserts (shown below.) While not having the concealed cook top or food warming shelves, the T5 Inserts do still offer elegant styling and efficient heating with optional blower and standard or oversized surround.





| | | |
| --- | --- | --- |
| | The Alderlea T6, while mobile home approved, is designed to heat up to 3000 square feet. Pacific Energy's patented Extended Burn Technology will allow for all night burns in its large fire box and the concealed cook top will fit 12" x 15" pan! Easy clean ash system, air wash system to help keep the fire visible through the large glass front all combine to provide superior heating in a rich metallic black cast iron finish. It has an optional variable speed blower. | |



Pacific Energy also manufactures wood stoves in small, medium and large sizes, wood inserts and the value-priced True North models.




Snowball Ventures - Your Wood & Wood Pellet Heating Specialist
---
US & overseas visitors please click here.
HOW TO CONTACT US: President: John Billwiller Phone: 250-442-2943
E-mail:
Regular Mail: 10545 Granby Rd.
Grand Forks, BC, Canada V0H 1H1

(Snowball Ventures is conveniently located 10 ½ km north of Grand Forks at 10545 Granby Road.)



| | | | |
| --- | --- | --- | --- |
| Member of: | | | |
| | | | |
| --- | --- | --- | --- |
| Director of: | | | |
---
Last updated October 19, 2018
Site design by: