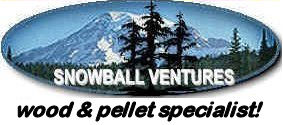 Small but powerful, the Mini is clean, efficient and can fit almost anywhere! With its "Run Quiet" system, it is currently one of the quietest wood pellet stoves available. The auger is cushioned to reduce motor noise, the stove can heat efficiently with or without the convection fan, and the combustion fan is strategically positioned inside the stove to minimize its noise level.
Only 18" wide and 19 1/2" deep, the Mini's 35" height allows for a 50 lb. hopper capacity. Thermostat ready, the Mini comes with a large ash pan and built-in hearth pad and its 30,000 BTUs and heavy-duty heat exchanger will provide an abundance of wood pellet heat, both radiant and convected, for your 600 - 1200 square foot living space.






Take it to the Maxx! with the new Enviro Maxx freestanding wood pellet stove. While similar to the Mini wood pellet stove in looks, the Maxx's large, heavy duty heat exchanger and up to 70,000 BTUs will heat from 900 to 2700 square feet of living space.
The Maxx is both easy to use and easy to clean. Thermostat or remote control compatibility, a 130 lb. hopper capacity, and a large viewing window (117 sq. in.) all combine to bring Maxximum Heat to your home or workplace.






The Empress wood pellet heating appliance captures all the best features that cast iron has to offer - solid construction, detailed patterns & curves and featuring Enviro's exclusive "Run Quiet" system and a large cast iron heat exchanger. The Empress, with its opening doors, is available in several beautiful colour finishes and will heat from 800 to 1600 square feet in either a free standing appliance (wood pellet stove) or a fireplace insert.
Standard features include a large hopper, removable ash pan and dual mode thermostat capability, while the optional clip-on fire screen allows you to enjoy your fire to the fullest.




The Milan wood pellet fireplace insert will heat 800 to 1500 square feet quietly and efficiently. It features a large glass size and 55 pound hopper (with sliding hopper lid for ease of filling) while only extending 8.4 inches onto your hearth. This insert is both thermostat and remote control compatible and uses quick-disconnect venting for easier cleaning and service.




Snowball Ventures - Your Wood & Wood Pellet Heating Specialist
---
US & overseas visitors please click here.
HOW TO CONTACT US: President: John Billwiller Phone: 250-442-2943
E-mail:
Regular Mail: 10545 Granby Rd.
Grand Forks, BC, Canada V0H 1H1

(Snowball Ventures is conveniently located 10 ½ km north of Grand Forks at 10545 Granby Road.)



| | | | |
| --- | --- | --- | --- |
| Member of: | | | |
| | | | |
| --- | --- | --- | --- |
| Director of: | | | |
---
Last updated November 22, 2018
Site design by: