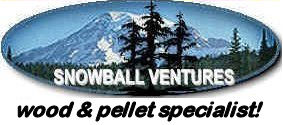 Home

About Us

Consumer Resources

Manufacturers

Products
Pellet & Acc.
Wood Stoves
Wood Inserts





Sample Pellet Stove Installations

Wood pellet heating appliances can be used for the purely practical, such as heating a workshop or greenhouse, or can combine the warmth of clean, wood pellet heat, with the beauty of good furniture. Featured below are some samples of wood pellet stove installations by Snowball Ventures.

Snowball Ventures - Your Wood & Wood Pellet Heating Specialist
---
US & overseas visitors please click here.
HOW TO CONTACT US: President: John Billwiller Phone: 250-442-2943
E-mail:
Regular Mail: 10545 Granby Rd.
Grand Forks, BC, Canada V0H 1H1

(Snowball Ventures is conveniently located 10 ½ km north of Grand Forks at 10545 Granby Road.)



| | | | |
| --- | --- | --- | --- |
| Member of: | | | |
| | | | |
| --- | --- | --- | --- |
| Director of: | | | |
---
Last updated August 17, 2019
Site design by: