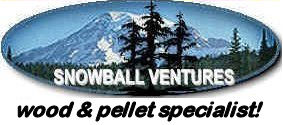 Home

About Us

Consumer Resources

Products
Pellet & Acc.
Wood Stoves
Wood Inserts

Installations


Manufacturer's Links


This is the home site for BC based Enviro wood pellet heating appliances.

Pacific Energy is the Vancouver Island based manufacturer of the Pacific Energy & Alderlea brands of wood stoves and inserts.

This is the North American site for Piazzetta Pellet Stoves, manufactured in Italy.
True North is Pacific Energy's value-priced line of wood and pellet stoves & inserts.
Snowball Ventures - Your Wood & Wood Pellet Heating Specialist
---
US & overseas visitors please click here.
HOW TO CONTACT US: President: John Billwiller Phone: 250-442-2943
E-mail:
Regular Mail: 10545 Granby Rd.
Grand Forks, BC, Canada V0H 1H1

(Snowball Ventures is conveniently located 10 ½ km north of Grand Forks at 10545 Granby Road.)



| | | | |
| --- | --- | --- | --- |
| Member of: | | | |
| | | | |
| --- | --- | --- | --- |
| Director of: | | | |
---
Last updated August 17, 2019
Site design by: